NewWoodworker.com In 2005
Getting bigger but staying the same
A note from Tom Hintz, Publisher
NewWoodworker.com
First, I want to thank everyone who visits NewWoodworker.com! 2004 was the fourth consecutive record setting year at NewWoodworker.com with traffic numbers soaring far beyond expectations. In light of that growth, changes to NewWoodworker.com in 2005 will be subtle.
Our very popular Tips & Tricks section will feature a steady stream of new How-To articles inspired by viewer input and suggestions from manufacturers who identify common issues through their tech lines.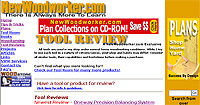 The Tool Review section enjoyed the largest growth in traffic and manufacturer participation in 2004. Just recently, woodworking heavyweights Delta, Freud and Incra have joined a rapidly expanding list of manufacturers presenting their new tools and equipment on NewWoodworker.com. With the support of these manufacturers and others who have expressed interest, our Tool Review section will continue to grow.
Throughout 2004 viewer requests for How-To articles and Tool Reviews specific to woodturning has grown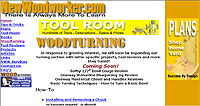 substantially. Because of this, the woodturning section will see the biggest change. New material has already begun appearing in the Woodturning section, leading off with several products from Oneway Manufacturing, makers of the venerable Talon Scroll chuck, Wolverine Grinding Jig among their full line of woodturning products. There are many more products and articles to come in 2005.
Our NewWoodworker.com Custom Plans have also seen a remarkable growth in popularity. Once again, the most popular viewer project suggestions are being developed for release throughout 2005.
Late in 2004, NewWoodworker.com began using video clips to illustrate appropriate subjects. Expect to see more videos where appropriate in the future. We will be stepping up our technology in 2005 to produce better and faster loading videos that augment our text and photography.
The volume of email received at NewWoodworker.com has grown with traffic and at times makes responding as quickly as I would like difficult. While it is impossible to accommodate every suggestion, all are considered because your thoughts will always be important to how NewWoodworker.com grows.
2005 promises to be an exciting time at NewWoodworker.com. While a considerable amount of growth is planned, the core ideas behind that popularity will not change. NewWoodworker.com will always be focused on helping you work better, safer and getting the most value for your woodworking dollars.
I hope you will visit often and tell your friends. As always, I welcome your input and suggestions. 2005 is going to be fun and we can all share in that.