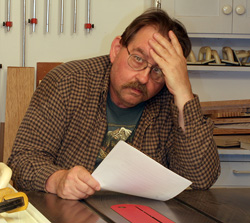 It's hard for even me to believe how insensitive and outright uninformed a PR rep of the corporate community can be. But then the company being represented ran for the hills when they found out I have Alzheimer's. Maybe I shouldn't be surprised.
Click image to enlarge
PR Jerk
I get another education
Text and photo by Tom Hintz
Posted 8-22-2015
So I get an email from a PR person now representing a long-time woodworking equipment manufacturer. This person had a remarkably hostile tone to an attempt to get me to put the company on the Links page of my woodworking website that gets something in the 21 to 23 million visits-per-year and that has consistently climbed somewhat for 12 years now.
This company had in fact been on my site and like many had contributed to keeping my site growing and naturally to promote their products. We all understood what was in it for everybody. Then when I was diagnosed with Early Onset Alzheimer's I considered going public right away rather than have to apologize for not doing so later on when I could no longer hide the truth. I was warned against admitting to having the disease because of the potential backlash with supporters but I thought the world was a much saner place than it turned out to be and published an article "I Have Alzheimer's" on 2-22-2013. In remarkably short order all but two of my long-time site sponsors had run for the hills taking a huge portion of the operating budget (and my income) with them.
To say I was stunned by the exodus is inadequate. I was certain everybody would understand the disease and that it did not instantly render me incapable of doing what had attracted them in the first place. I was wrong in a big way. People absolutely had the capability to react in a way that can only show a complete lack of knowledge of the disease and what it means, not to mention how it progresses. It was much easier for their knee to jerk, their pocketbook to close and their back to turn my way.
Eventually I removed all of the free links I had on my site to the companies that left which reduced my Links page to two companies, the ones who stayed involved. Now 2 ½ years later this PR person noticed the change and angrily demanded that I repay their long time support (this person failed to mention that support ending 2 ½ years ago) by putting their link back on my site, the one I was now paying for out of my own pocket. I pointed out the company's departure and the fact that since then if it were not for the donations from the public there would be no site at all.
The response from this reputedly professional PR person accused me of being focused only on the dollar and not the woodworking community. I read that note several times to be sure I really was seeing a representative of the company that pulled all of their financial support because I had Alzheimer's accusing me of focusing on finances. It turns out that the adage "truth is stranger than fiction" carries more weight than I ever suspected in part of the corporate world.
The result of this exchange is that the Links page of NewWoodworker.com still has two companies listed. They have been steady in their support and in their understanding that having Alzheimer's does not make me dangerous to their products or image. Unfortunately I do not anticipate being able to add any new companies to the Link page any time soon. That just is the reality I face these days. The public is far more compassionate than the corporate world and I suspect that will continue.
Have a comment on this Article? - Email Me!