Band Saw - Craftsman, 12-inch, 1-HP
Note: This saw is no longer in the shop.
I have always wanted a band saw, initially just because I wanted one. After watching Norm Abram on the New Yankee Workshop, I could see there were many legitimate uses for this machine in the home woodworking shop. After a few months of shameless hinting and far too obvious remarks about needing one in the shop (and a well-timed Craftsman sale) the wife relented and I was soon backing in the drive with my new Craftsman band saw in the trunk.
Along with the band saw, I made two additional, but important purchases. I added a rip fence and work light to the band saw. The rip fence is essential for many kinds of work I would be doing; the light is mandatory to assist aging eyes, which it does very well.
After the initial assembly and setup, I spent an afternoon playing with my new toy. Once I started building the next projects on my list I quickly found that having the band saw available complimented many operations, making some faster and others more accurate. Rather than changing the setup at the radial arm saw, I could make many needed cuts on the band saw, saving a lot of time.
Cutting operations such as forming tenons and working with small pieces of wood are easier and safer on the band saw. In addition, for curved cuts, there is nothing better.
Soon after buying the band saw I ordered the hardware and plans kit for a circle cutting jig from the ShopNotes collection. It was fun to build and works great. Now I am confidently hinting to the wife about the beauty and practicality of a pair of round oak end tables.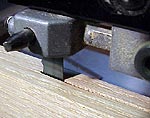 Overall, my desire to own a band saw has been justified, no matter how unintentionally. The band saw has proven to be a worthy addition to my shop, and one that gets considerable use. The longer I have it available, the more tasks I find for it.
UPDATE: After two years of use, this band saw has required no repairs or adjustments other than when changing blades. I have resawed four-inch-wide oak with virtually no blade wander (using a 1/2-inch 4tpi blade) and have used it as a scroll saw with a 1/8-inch blade. This machine continues to be a very handy addition to the shop with more and more uses being discovered all the time.
Do you have a comment about this page? - Email Me!