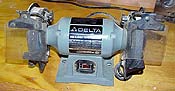 Click image to enlarge.
Delta 6-inch Bench Grinder
Text & photos by Tom Hintz

I have a bench grinder in the shop more for general home use than specific woodworking uses. I do not need it often, but when garden tools or lawn mower blades need a new edge or any of a hundred other little uses arise, the grinder is worth its weight in gold.
A woodworker with a steady hand and sharp eye can put a good edge on a chisel. I on the other hand, with considerable luck, can reshape a damaged flat bladed screwdriver. I will certainly kill a chisel if I try to sharpen it on the grinder.
If you own a home, a grinder might be a good thing to have around, especially since they are relatively cheap. If you have a good set of chisels, especially lathe tools, a dedicated sharpening machine and stones might be more appropriate.
UPDATE: Once again, Delta built a tool you put on the bench and forget about it until you need it. I have had this grinder about four years now and have yet to even buy a wheel for it. I do not use it a lot, but when I need it, it's worth it's weight in clear oak.
See more tools at www.deltawoodworking.com
Do you have a comment about this page? - Email Me!