Classic Woodturning Projects with Bonnie Klein
Paperback, 68 pages
If you are new to woodturning, the name Bonnie Klein may not be familiar. Chances are you will get over that very soon.
Over the last twenty-some years, Bonnie has shared her considerable skills at the lathe with woodturners across the US and in several other countries. Bonnie and her work are frequently featured in prominent books and magazines, always in an effort to share Bonnie's expertise and style of turning. Along the way, Bonnie also found the time to develop the Klein lathe, an interesting machine that while relatively small in size, is big on features that make it very capable.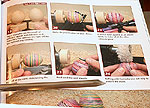 Classic Woodturning Projects with Bonnie Klein is unique because the mix of material is of interest to both new and experienced woodturners. Bonnie presents a dozen of her better-known projects, demonstrating the skills used to make each of them. Included are spinning tops, letter opener, whistle, tool handles, honey dipper, spiral chatter eggs, Yo-Yo and more. While the projects themselves are very popular, Klein focuses on the skills used to make them. Those skills can be applied to a huge range of projects, making the reader more versatile.
Bonnie's talent for demonstrating techniques and procedures in person translates to print very well in Classic Woodturning Projects. The book is heavy on clear, descriptive photographs, supported with well-written, concise text. The photos clearly depict the important points of each project. The reader gets to see how it's done, not just read about it. This step-by-step combination of photos and text makes Classic Woodturning Projects as useful in the shop as it is in your favorite reading chair.
In Chapter 1, Bonnie shows the basics of preparing a blank followed by a section on the core techniques used to make the projects. This "building block" approach to teaching makes it easy for the reader to follow along and be successful in making the projects.
Conclusions
Whether you are brand new to woodturning or a veteran looking to expand your skill set, Classic Woodturning Projects with Bonnie Klein is a fun, effective way to learn. The mix of projects and techniques makes following the flow of Classic Woodturning Projects fun and productive. When you are having fun, it's almost difficult to come away without learning something.
While the projects Bonnie Klein demonstrates are fun and will certainly become part of your project list, the skills learned have wide-spread usefulness at the lathe and will make you a butter turner overall.
With a street price of $14.95 (6-13-2005), Classic Woodturning Projects with Bonnie Klein will be one of the better investments you make in the pursuit of woodturning.
Do you have a comment about this page? - Email Me!