ColdHeat "Freestyle" Cordless Glue Gun
Portable handiness for the shop
Text & Photos by Tom Hintz
Ok – It's not a big-buck power tool. It doesn't cut wood, make dust or lots of noise. It really is a craft oriented tool but being truly cordless makes the ColdHeat Glue Gun, from the same folks that make the trick soldering gun that carries the same ColdHeat name, a handy gadget around the woodworking shop as well.
The ColdHeat Glue Gun really is a modern day version of the hot melt glue gun crafter's have been using for years. By using modern battery and electronic technology, the folks at ColdHeat have eliminated the cord and much of the waiting time from this tool.
They also applied ergonomics to the design to make it more comfortable to use, something that translates into more accuracy. That means putting glue where you really want it and less mess to clean up later.
Battery Power
The ColdHeat Glue Gun is operated by a small battery pack that plugs into the handle and provides up to 1-½ hours of use, thanks in part to special circuitry that uses that power at a miserly rate. A 120V charger comes with the kit that refreshes a totally depleted battery in 2 to 3 hours.
The ColdHeat Glue Gun automatically changes to a "power save" mode that reduces the power consumption after 8 minutes of inactivity, greatly extending the useable time before a recharge is necessary.
All this is important because the ColdHeat Glue Gun does not work on stored heat like most other "cordless" glue guns. It actually creates the necessary heat to melt the glue sticks during use.
Comfortable Size
The overall size of the ColdHeat Glue Gun makes it easy to grip. The shaping of the grip and trigger are comfortable and rubber inset panels make it slip-free. Using a glue gun is not considered strenuous but the no-slip grips and easy to control trigger simplify putting glue where you want it without contaminating the surrounding area.
Glue Sticks
The ColdHeat Glue Gun uses common glue sticks (0.28-0.30" diameter) and heats them to a ready to use state in 1 to 2 minutes depending on the battery charge. At this point, there is only one type of glue stick available but for most of the common uses, that is all that is needed.
In the Shop
Certainly the ColdHeat Glue Gun is not going to replace the array of adhesives woodworkers use but it does come in very handy when another set of hands are needed for installing small pieces or just temporarily positioning larger ones so they can be secured with screws or brads.
The bond created by the ColdHeat Glue Gun adhesive is substantial, more than adequate for holding pieces to be permanently fastened with something else. That bond strength also makes this a great tool for permanently installing small (and not so small) decorative moldings.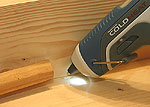 Putting just the right amount of glue, exactly where needed is easy. Plus, the bond strength of the included glue sticks is substantial.
Click image to enlarge
A no-drip tip keeps the work area clean. The ColdHeat Glue Gun has a built-in nose stand that allows setting it down in the proper position on any reasonably flat surface.
Being able to place a little dab of glue where needed, press the piece into place and hold it for 20 or 30 seconds is lots more fun that trying to balance a nail gun or glue bottle while putting a piece of molding in the right spot.
The ColdHeat Glue Gun also features a LED work light that really comes in handy when we are trying to position a piece of molding under the edge of a cabinet top. Being able to actually see where you are putting the dab of glue prevents errors that can mean lots of sanding later. The LED light can be switched from low to high intensity with the side-mounted ON-OFF switch that controls gun operation.
Conclusions
The ColdHeat Glue Gun does the job it is advertised to do and does it well. For many little tacking or gluing jobs around the woodworking shop, the ColdHeat Glue Gun is a cost-effective answer that will have many other uses around the home, especially if you or others also delve into craft-type projects.
The current price of $29.95 (4-28-2006), complete with the gun, battery, charger and glue sticks, makes the ColdHeat Glue Gun a good value as well.
For more info or to buy the ColdHeat Glue Gun – Click Here
Have a comment on this review? – Email Me!