Craftsman, 10-Inch Benchtop Drill Press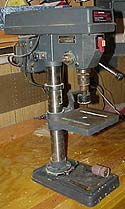 This is another tool I have found many more uses for than I anticipated. There are few woodworking operations that absolutely require a drill press to perform, but there are dozens that can be done much safer and more accurately with one.
I use my press for drum sanding, drilling screw-hole plugs, pre-drilling countersink holes, using a hole saw to form part of a design and many other things. The only accessory I have is a home-built table cover that has a hole large enough for my biggest drum sander to fit into so I can sand the entire edge of a piece.
The other thing to learn about a drill press is to use the speeds it has available. I found that when cutting screw-hole plugs, you have to slow the press down (I run at 930 rpm) for this operation. Running the press too fast apparently causes too much heat and the plugs constantly seize in the cutter. Slow the spindle speed enough and the problem goes away.
I could have purchased a bigger press, but this one is out of the way (on the bench) and so far has all the capacity I have needed. Here again, Sears seemed to have a good deal. The press is virtually all cast iron, has a tilt cast iron table, locking spindle height and three spindle speeds. So far, I do not need more.
Do you have a comment about this page? - Email Me!