Porter Cable #743K 7 ¼" Blade-Left Circular Saw
A More than Worthy Woodworking Tool
Text and photos by Tom Hintz
Cutting large pieces of sheet stock, or long boards on even the best table saw can be a difficult and occasionally dangerous task. Add the all-too-common lack of space many home-based woodworkers deal with and it's obvious that an alternative way to deal with this and other tasks is needed.
The hand-held circular saw may not be commonly considered a woodworking tool, but it has its place in most of our shops. For reducing large sheet stock to more manageable sizes, the circular saw represents a cost efficient solution that can be applied to other tasks around the shop as well.
Overview
The left-mounted blade initially piqued my interest in the Porter Cable model 743K 7 ¼" circular saw (PC 743K) but I found there is much more to like about this tool. Outward appearances suggest the PC 743K is a well-made tool, as I have come to expect from Porter Cable. The fit and finish are first rate and give the impression of durability, not flash. All of the user
features appear nicely laid out and easy to access.
Note: Porter Cable also offers a right-mounted blade version, #347K, usually at the same price.
Handles
From the first time I used the PC 743K, it was apparent that the Porter Cable designers and engineers had done their homework on this tool. It felt very well balanced in my hand and combined with the position and shape of the handles makes operating the PC 743K comfortable and predictable, which translates into accuracy.
The trigger-style switch built into the primary handle has a very positive feel that leaves no doubt you are about to engage the motor. A small consideration perhaps, but considering the capabilities of the saw, a nice safety feature.
Adjustable Baseplate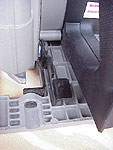 An important feature of the PC 743K is the 12 3/16"-long by 6 5/8"-wide cast magnesium base plate. That size provides easy-to-use dimensions when guiding this saw with a temporary fence. The base extends 1 ½" from the blade on the left side and 5" on the right with the blade at 90-degrees. The sides of the baseplate are square and 3/8" tall allowing solid control when following a guide fence. To keep the baseplate and blade aligned, the PC 743K features a substantial steel mounting system.
The PC 743K features healthy cut depths of 2 5/16" at 90-degrees and 1 13/16" at 45-degrees. An easy-to-read angle scale is cast into the baseplate with a human-sized knob used to lock the setting. Adjustable stops at 90 and 45 degrees are provided allowing those positions to be fine-tuned should they ever need it. The baseplate has maximum angle range of 93 to 48-degrees.
Depth-of-cut is set using a simple lever lock located at the rear of the blade guard housing. Flip it up, set the desired depth and push the lever down into the locked position.
Blade Guards
The fixed upper portion of the blade guard system is cast metal and features a dust port with a spring-loaded auto-closing ejection port. An included bent tube
fits securely into the port and allows the operator to direct a surprising portion of the sawdust generated wherever desired. Porter Cable offers an accessory connector for this dust ejection system for hooking it to a dust collector system.
The retractable portion of the blade guard has a large operating handle that keeps your fingers far from the blade when holding the guard partially open is necessary. The leading edge of the guard has a lip that helps it make contact with the material being cut to insure automatic retraction in most situations.
Blade and Power
The included 7 ¼", 18-tooth, carbide-tipped RiptideTM blade (5/8" arbor) is spun at 5,800 RPM (no load) by the super-strong 15 amp motor. The motor is equipped with ball and needle bearings throughout for maximum durability and smooth operation.
Blade changing is made easy by a finger-operated spindle lock. A stamped steel blade wrench (1/2" hex) is included and stored in the handle.
Power is fed to the saw through a heavy gauge 10-foot-long, polarized two-pronged power cord.
Included Case
Many power tools come with a case of some sort but Porter Cable chose to provide a very good quality case with the PC 743K. The physical design of a circle saw makes it all but impossible to transport without risking damage or knocking it out of alignment.
The PC 743K case looks rather basic but handles the most important job very well; protecting the saw. I do not take my PC 743K on the road often, but even in the shop, the case is nice to have for storing the saw safely and keeping it clean.
Impressions
The PC 743K has proven itself to be a very useful tool in my shop. I have yet to replace the included RiptideTM blade despite having cut up many sheets of plywood and rough-cutting lots of board stock. It continues to cut cleanly and without effort so I leave it alone!
Despite its power, the PC 743K is easy to handle, a quality that makes it very accurate and safer to use. Even when cutting 4 by 4" post stock it powered right through it even with the blade fully buried during the first cut.
The PC 743K proves that solid construction and an array of innovative features can be packed into a very trim 10-¾ lb. package. With a street price of $120 to $130, the PC 743K represents the quality we want at a reasonable price.
Dislikes
The stamped steel blade wrench. I realize this is standard fare with most power tools these days but that does not mean I have to like it. The combination of relatively thin stamped material and a rather short length make it uncomfortable to use. The short length is probably an engineering ploy to save us from ourselves. By limiting length, they limit how much torque we can apply to the blade bolt.
If you have a regular ½" wrench or socket, use that instead. Just use your head when tightening the bolt; you want to retain the blade, not strip the hole or bolt.
Nearly all woodworkers need a circle saw to handle the odd jobs not suited to our larger equipment, and to reduce material to more useable dimensions. If you are shopping for a new circular saw, give the Porter Cable 743K a hard look. I believe this is an investment that will pay dividends for many years to come.
Conclusions
Update (5-7-2006) After just over three years of use, the 743K continues to run like new. It is accurate, cuts very cleanly with a good blade and has saved the day repeatedly when it came time to break down large stock to use on other machinery.
Do you have a comment about this page? - Email Me!