Porter Cable Router Bits
New offerings from an old friend
Text and Photos by Tom Hintz
Porter Cable recently debuted their new line of router bits featuring a deep burgundy color applied to the body. Making router bits is nothing new to Porter Cable, but their new line incorporates new features that increase quality and function.
When a large corporation such as Porter Cable decides to market a new product, they bring a huge amount of design, manufacturing and distribution horsepower to the table. The result is a line of quality router bits that you can find in stock at many local home centers and woodworking shops.
Initial Impressions
The new Porter Cable router bits look well-made with very clean machining and sharpening. The finish on machined and coated surfaces is smooth and consistent with no sign of "good enough" tooling marks. The bearings on bits so equipped are very good quality, sealed and smooth turning.
Production
To insure consistent quality, Porter Cable uses super accurate machining centers and CNC (computer numerically controlled) multi-axis grinders throughout the manufacturing process. This level of machining allows the production of even complicated profiles with extreme but consistent accuracy. The body and cutters are also very concentric, drastically reducing the chances of vibration.
Even the most complex cutter shape can be sharpened to a fine edge with highly consistent finish.
While the end user is most concerned with whether the shaft is ¼" or ½", Porter Cable looks far closer. All shafts are centerless ground on CNC equipment and checked to insure accuracy within 0.0005"! This level of precision virtually eliminates runout and another possible source of vibration.
The attractive burgundy color is actually a powder coating that is widely used on automotive wheels and motorcycles because of its durability and good looks. Porter Cable apparently was more concerned with attaining a long-lasting finish than the increased cost of its application.
Big Carbide
Porter Cable uses very thick carbide cutters on their new bits, up to 40-percent thicker according to their product literature. Increasing the thickness of carbide cutters makes them stronger overall but also distributes force much better, making them less prone to cracking or chipping. The extra cutter mass also acts as a heat sink, dissipating temperature more quickly which helps keep the cutting edge sharper longer.
Extra material at the cutting edge means they can be sharpened repeatedly, should that become necessary.
Pozi-Stop
A new development on some larger Porter Cable router bits is the Pozi-Stoptm feature. The body of the bit extends downward and butts against the collet, acting as a positive stop. This allows the user to change between two complimentary bit profiles without having
to adjust the cutter height. Pozi-Stoptm is primarily built into larger cutters and sets that cut interlocking profiles.
When I first heard of the Pozi-Stoptm concept I was a bit concerned that it could cause stuck-bit problems since it appears to require installing the bit with the shaft fully inserted into the collet, something that can easily cause the bit to seize in the collet. The Porter Cable engineers had already thought of this and shortened the shaft on Pozi-Stoptm bits enough to remove that possibility. While the shafts look almost stubby, when installed with the Pozi-Stoptm shoulder against the collet, the bit is firmly and safely retained.
In The Shop
Our testing focused primarily on ¼"-shanked Porter Cable bits, though one ½"-shanked forming bit was also evaluated. The concentration on ¼"-shanks was in part due to availability at the time of this review as the new Porter Cable bits were just beginning to ship to stores. It should also be noted that ¼"-shanked router bits remain a top seller in the overall router bit market. Even woodworkers who normally use ½"-diameter shanks find some profiles available on ¼"-diameter shanks very useful, especially on smaller projects.
Regardless of shank diameter, the quality of materials and manufacturing remained constant, making all of the Porter Cable bits solid performers.
All of the Porter Cable router bits we tried ran very smoothly throughout the allowable RPM range. In fact, we were able to cut wood with all of the Porter Cable test bits at their maximum RPM with no sign of vibration or degradation of the cut quality.
The cutting edges on the new Porter Cable bits are very well designed and sharpened. Regardless of the species of wood, the Porter Cable bits cut cleanly with no appreciable strain on the router motor or loss of RPM.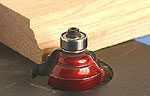 Throughout our testing the amount of heat generated by the Porter Cable bits was lower than expected. Even when cutting a complicated ogee profile in oak and the always heat-sensitive maple, there was no tendency to scorch the wood at all but ridiculously slow feed rates.
Perhaps most telling is how Porter Cable bits cut profiles with delicate edges within them. Keep the wood stable as it passes over the bit and the resulting edge is perfect - straight and clean with perfect details. That kind of performance only comes from highly concentric, accurately machined cutting edges.
Conclusions
The new Porter Cable router bits are a good value for the home improvement and woodworking markets. They work very well, are reasonably priced and can be purchased at many home improvement centers.
If there is a downside, it is the selection of bits available on the local level. In the "big box" stores we checked, the Porter Cable router bit display contained what appears to be a full range of ¼"-shanks and precious few of the ½"-shanked profiles more serious woodworkers are accustomed to using. Fortunately, the woodworking supply outlets that carry Porter Cable products appear to be taking up the slack by stocking this range of larger, somewhat higher-priced bits.
When a new router bit is on your shopping list, take a look at the Porter Cable offerings. I think you will find what you need in their line and be happy with their performance in the shop.
Do you have a comment about this page? - Email Me!