Saw-Aid
Safety and Control
Text and Photos by Tom Hintz
Early in life, I learned to appreciate the benefit of ten working fingers. That revelation instilled a life-long desire to preserve their presence and function. While assembling my first woodworking tool, a radial arm saw, I recognized that a machine capable of slicing hardwood could just as easily impede my ability to grasp essential objects like forks and spoons, or the ability to dial 911 to report just such a catastrophe.
Recently, while tabulating the New Woodworker Injury Survey, it became evident that far too many woodworkers were taking unnecessary risks with these precious appendages. I have witnessed experienced woodworkers using their fingers to push stock through a saw that they obviously consider safe but I regard as an unnecessary risk.
Though I have always used push sticks, I have embraced one derivative, the Saw-Aid, from Stots. Of all the push sticks and other safety devices I have purchased or made, the Saw-Aid is by far the best of the bunch.
The first thing you notice about the Saw-Aid is that it looks very rugged. It appears to be made from a glass-filled resin that has no perceptible flex and transmits a very good sense of feel when moving a piece through a table saw. The overall dimensions of the Saw-Aid, 7 15/16-inches tall, 10 5/16-inches long, ½-inch-thick, combine the safety of distance from the blade with the ability to manage relatively small work pieces comfortably.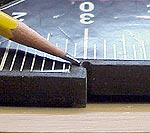 The grip handle is formed high enough to keep your hand away from the blade and a considerable portion of the Saw-Aid's mass between your fingers and injury. Its stepped bottom edge provides a firm mechanical grip on a work piece that resists slipping very well. The inside corner of this step features a molded in circular crack-stop that helps resist splitting in the event of contact with a spinning blade.
The seven-inch-long bottom surface ahead of the step seems to grip bare wood very well, providing a solid feel of control while preventing virtually all lifting of the work piece. I also have noticed being able to keep the workpiece firmly against the fence with only slight side or rotational pressure on the Saw-Aid grip.
While Stots was designing the Saw-Aid, they included other useful features. The outer edges have 30, 45 and 90-degree flats that can be used for setting blade angle, or checking cuts on work pieces. A center finder slot and a two-tiered inch scale with large numerals are placed along the bottom edge.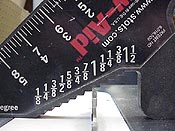 Turn the Saw-Aid upside down and you have a set of stepped height indicators ranging from 1/8-inch to 1 ½-inches (1/8-inch increments) for setting blade height on your table saw.
I use the Saw-Aid constantly on my table saw and have found no reasonable situation where it does not work. While I have no experience using the Saw-Aid on other machines, that should not automatically preclude those possibilities.
There are few tools that I feel as strongly about as I do the Saw-Aid. I could probably perform many operations on my table saw without the Saw-Aid, but why? I feel no reduction in control or feel at all, but I do recognize the increased margin of safety the Saw-Aid provides.
Nothing can totally eliminate the possibility of injury. The Saw-Aid, when used properly, can make woodworking on a table saw considerably safer. If that is not incentive enough to use this tool, you need to take a hard look at your priorities.
The Saw-Aid is available from many woodworking suppliers with a street price of around $18.
Check Hartville Tool's price! - Click Here
Do you have a comment about this page? - Email Me!