Understanding Wood Finishing
Absolutely the best book on finishing I have seen!
Author: Bob Flexner
308 pages - Price: $19.95
Publisher: Readers Digest
Text & Photos by Tom Hintz
For many woodworkers, choosing and applying finishes is a frustrating black art often punctuated with disappointment. While most of us learn through trial and error, that can be a long and expensive process, not to mention the potential negative impact to our projects in the process. Understanding Wood Finishing is the answer.
The first edition of Understanding Wood Finishing sold well into the hundreds of thousands of copies, an exceptionally rare occurrence in the relatively small world of woodworking books. Now completely revised and updated, Understanding Wood Finishing is even more important to anyone that works with wood.
Author, Bob Flexner, did all the legwork, experimenting, researching and compiling the huge amount of information contained in Understanding Wood Finishing. I can think of no type of finish that is not explained in detail within these pages. The combination of Flexner's easy to understand writing and hundreds of first-rate photos make using Understanding Wood Finishing in your shop as easy as it gets.
User-Friendly Format
Flexner has arranged Understanding Wood Finishing so the flow of information walks the reader through the finishing process in a logical manner. The first chapter, Why Finish Wood, Anyway?, explains why there is far more at stake than simply making a project look good. Understanding the reasons and benefits of the various finish types makes choosing the right material and application method very easy.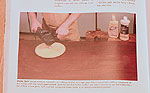 From there, Flexner moves on to preparation of the wood, a crucial yet often misunderstood step in the finishing process. Next, the tools used to apply finish are explained in detail, including a look at techniques to get the most from them. Flexner even provides extensive information on setting up a safe, effective finishing area.
Flexner includes fully detailed chapters on virtually every type of finish used in woodworking. Shellac, lacquer, varnish, two-part, oil and water-based finishes are each covered in detail, as are stains and waxes. There are even chapters devoted to filling pores, repairing and stripping finishes.
An especially interesting chapter entitled "Finishing the Finish" takes a close look at the process of buffing and rubbing a surface out. This can be a precarious part of finishing that can easily make the difference between a beautiful finished project and one that needs to be stripped or repaired.
Conclusions
If you work with wood, Understanding Wood Finishing is a must-have book for your shop. The huge amount of information and Flexner's easy-to-follow writing style take the frustration and mystery out of choosing the right finish and then applying it correctly.
Because Understanding Wood Finishing will make every project you build better, the price of $19.95 represents the biggest bang you will ever get for a woodworking buck.
Do you have a comment about this page? - Email Me!