Woodpeckers Router Plates
Stepping up the basics
Text & Photos by Tom Hintz
While they may appear somewhat simple when compared to Woodpeckers high-tech lift plates, their basic router plates remain a popular option. Ease of use and a low budgetary impact are considerations but when combined with the new breed of router bases, the simple router plate is more functional than ever. Woodpeckers quality and pricing make them an uncommon value as well.
Woodpeckers, Inc. offers router plates made from aluminum or phenolic material. Both are made in Woodpeckers high-tech shop for top quality materials using state of the art machinery and techniques to produce super accurate router plates that are tough enough to stand up to the most demanding home woodworker.
Initial Impressions
Both the aluminum and phenolic Woodpeckers router plates have the distinct look of quality. Clean, accurate machining and top quality materials are just the beginning. Every detail has been given extra attention to be certain these router plates work as anticipated and last a long time.
Aluminum Plate
The aluminum router plate is made from high-quality cast aluminum plate that is blanchard ground to assure it is flat within 0.002" on both sides. The plate is 3/8"-thick, 9 ¼"-wide and 11 ¾"-long, the same dimensions as all of Woodpeckers lifts and plates and many other brands on the market. This common sizing means Woodpeckers plates will usually fit an existing opening.
For those building a new router table, Woodpeckers offers an easy to use MDF template, designed to work with a short pattern bit to cut a perfect fitting recess quickly. The Woodpecker template costs only $10.00, (3-16-2005) making it almost cost-foolish to try to make your own.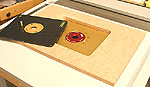 The Woodpeckers aluminum plate is available pre-drilled for Porter Cable models, 690 - 7529 - 890 - 8529 - 7518 - 7536 and 7539. Also, Bosch 1613 - 1615 - 1617 and 1618, Fein RT1800, Hitachi m12V, Makita 3612C - 1101, DeWalt 621 - 625 - 6184 and 610, Freud FT2000, Triton TRC-001 and Milwaukee 5619 and 5625 routers. Woodpeckers also offers un-drilled plates that can be drilled by the user to fit other routers.
The Woodpeckers aluminum plate sells for $79.95 (3-16-2005) and comes with mounting screws for the router, three TwistLock rings (1", 1 3/16" stepped for Porter Cable guide bushings and 2 5/8"), spanner wrench and brass starter pin.
Phenolic Plate
Using high-quality phenolic material reduces the cost of this Woodpeckers plate but retains substantial strength and dimensional stability. Phenolic material is highly resistant to heat and is especially resistant to sagging, which is a problem with lesser materials in a shop that gets hot in the summer months. Phenolic material also expands and contracts at a lesser rate than many other materials.
The Woodpeckers phenolic plate is 3/8"-thick, 9 ¼"-wide and 11 ¾"-long which means it will fit many existing recesses or you can easily route your own with the Woodpeckers MDF template.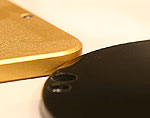 The Phenolic plates are available drilled for Porter Cable models 630 - 690 - 7518 - 7519 - 7536 - 7537 - 7538 - 7539 - 7529 - 890 and 8529. Also Bosch1617 - 1618, Makita 1101, DeWalt 618 - 625 - 6184, Triton TRC-001, Hitachi M12V and Milwaukee 5615 - 5619 and 5625 routers. A blank plate is also available and can be drilled to fit your router with common twist bits.
The Woodpeckers phenolic plate sells for $39.95 (3-16-2005) and comes with mounting screws for the router, three phenolic TwistLock rings (1", 1 3/16" stepped for Porter Cable guide bushings and 2 5/8"), spanner wrench and brass starter pin.
Common Features
Both the aluminum and phenolic plates share the unique Woodpeckers spring-loaded plunger system that maintains a snug, slop-free fit that prevents movement of the plate when the bit contacts wood. Plungers are installed on one short and one long edge to automatically maintain an optimum fit when the table itself reacts to temperature changes.
Both feature 8 leveling screws, used to adjust the plate flush with the surrounding surface. The screws have fine threads that resist backing out during routing operations.
Since both plates are 3/8"-thick, the amount of actual above-table bit length lost is minimal. The base plate, usually about ¼"-thick has to be removed before installation so the overall bit loss is limited to 1/8", often slightly less.
TwistLock Rings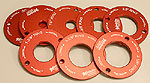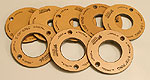 Both plates are machined for the sophisticated Woodpeckers TwistLock rings. The aluminum plate comes with aluminum rings and the phenolic plate with phenolic rings, though they are machined identically and can be interchanged.
Woodpeckers TwistLock rings are head and shoulders above the competition because they snug down flush with the plate surface every time and do not loosen up when tightened with the included spanner wrench.
Complete sets of TwistLock rings are available separately in aluminum or phenolic materials. Each set contains 8 rings with 5/8" - 7/8" - 1 3/8" - 1 5/8" - 1 7/8" - 2" and 2 1/8" hole diameters. A blank insert is also included that can be drilled by the user to fit special applications or used as is to close off the opening. This is especially handy for plates installed in table saw extensions to keep sawdust from building up on the router. In addition, none of the rings in the optional sets duplicates the 3 sizes included with the plates. This range of sizes makes it easy to keep the gap around the bit to a minimum for safety and accuracy.
The ring sets are priced at $79.95 for the aluminum and $49.95 for the phenolic versions.
Conclusions
The Woodpeckers aluminum and phenolic plates embody a level of quality that is uncommon in a marketplace that seems focused more on cheap than performance. Being price conscious is fine but if that savings means settling for decreased performance, that is simply money wasted.
The quality of the Woodpeckers plates, the very trick TwistLock rings and very reasonable pricing make these router plates favorites of woodworkers who demand value for the money they spend.

Do you have a comment about this page? - Email Me!