Woodworker's Pocket Reference
Everything a woodworker needs to know at a glance
Author - Charlie Self
Spiral bound - 175 pages
Fox Chapel Publishing
Text & Photos by Tom Hintz
Charlie Self is a well-known woodworking writer that obviously invested a ton of time putting this extensive reference book together. Subtitles are often designed to sell a book more than describe what's in it. However, in the case of the Woodworker's Pocket Reference, the subtitle is a major understatement. This book is loaded with information that will benefit new and veteran woodworkers alike.
Depth of Information
Each chapter in the Woodworker's Pocket Reference focuses on a specific area of woodworking and explores it thoroughly. Self distills the extensive information and presents in a well-organized, understandable manner.
For example, Chapter One is titled "Wood." Within that one chapter, Self looks at the popular woods with a description of each that includes its weight/strength, workability, movement tendencies and common uses. A chart shows the possible reactions woodworkers can have to the various wood species including what about them may cause a reaction.
Also covered are basic descriptions of wood defects and how they impact grading of the lumber. Want to know about the different cuts of wood? How to store it? Dry it? All that and more is in Chapter One!
The remaining chapters in the Woodworker's Pocket Reference are equally thorough in their description of fasteners, finishing, hand tools, joinery, sharpening, setting up a shop, woodworking math and safety. Of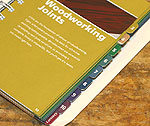 course, power tools are covered in a separate chapter with basic descriptions of popular machines, their uses, capabilities and even general space requirements.
The Woodworker's Pocket Reference does not have an index but rather uses numbered tabs on card stock dividers that mark the beginning of each chapter. Readers tend to leaf through a book looking for specific information rather than use an Index. With such clearly defined chapters, this tab system makes finding the information you need is easy.
The spiral binding allows the Woodworker's Pocket Reference to lay flat on the bench. Unlike normally bound books, the pages do not flip on their own, keeping the needed information visible and your hands free.
Conclusions
The Woodworker's Pocket Reference is a valuable resource for all woodworkers but even more so to those who are new to the hobby by making them more educated shoppers. Setting up the first shop is a prime time for wasting money through ill-advised equipment or tool purchases. The Woodworker's Pocket Reference will help you make better choices for your shop, project list and budget.
While it would be impossible to include everything in one book, the Woodworker's Pocket Reference comes close in this well-written and organized overview of woodworking. Quality photography and clearly constructed graphs augment the easily understood information.
While a really big pocket will be needed to actually carry the 6 ½"-tall by 5"-wide Woodworker's Pocket Reference, you won't need deep pockets to buy it. The street price of $14.95 (6-1-2005) makes the Woodworker's Pocket Reference an exceptionally rare value.
Do you have a comment about this page? - Email Me!