I Got a Smaller Table Saw – On Purpose
But I will be OK, honest
Text & photos by Tom Hintz
Posted – 6-13-2011
I just got a new JET Deluxe Exacta™ Saw, 3HP, 220V but I have a confession. After 20-some years with fence systems in the 50-inch range - the ones we are programmed to long for – I intentionally got this saw with a 30" fence. I wasn't drunk, hadn't taken a (major) hit to the head and my mental state remains within normal limits despite the skepticism of some around me.
So, why would a guy intentionally desire something smaller? Actually this comes from common sense, something else that can get me in trouble with the Man world. I felt that I just did not need something that long. Scary I know but true nonetheless. What is even stranger is that a smaller fence system makes sense, something else that shakes the underpinnings of the Man world.
Like many of you I work in a small shop. Actually it is a two car attached garage that hasn't had a car in it in well over a decade. The lack of space was one thing but my lack of need for the extra capacity fence systems made bringing in another saw with the same long fence stupid. The only justification I had for the longer fence was to be able to say I had the longer fence even though I had no demonstrable need for it in my woodworking. Even the scratch pattern on the table of my last saw showed that I wasn't moving the fence very far down those long rails. Usually the only time the fence went near the maximum limits was for photography needed a flat surface on which to shoot.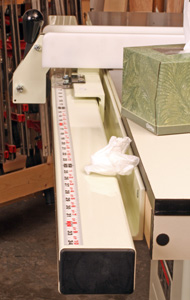 I know that admitting my decision to get a 30" fence system might cause my Man card to be suspended or something but I just had to do it. With the shorter fence assembled I can see that it navigates my shop much easier. I can actually walk from here to there without crawling under the long extension table or banging my always-bruised hip against one of its corners.
Some will question my admitting such a personal thing so publicly but I just think it needs to be said. I have read forum posts where guys hinted at lacking the need for a long fence but I felt that someone needed to own up to it for all to see. The reality is that I can cut everything I need with my new 30" fence system. I have another table that I can use for photography, especially now that my table saw is not sticking out no matter where I put it. I can actually "park" my new shorter saw in my shop more easily and be able to do other things at the same time!
The moral of this story is that men can actually want something smaller without sacrificing any of the pleasures of woodworking. The table saw manufacturers obviously know that 30" fences have utility because they all sell them. I have it on good authority that table saw manufacturers do not report you to anyone when you buy a 30" fence system though I suspect there will be a few forum-cruisers who will be certain that those smaller fences have a tracking device secreted within the main tube.
I just wanted everyone to know that it is OK to want and even buy a table saw with a 30" fence. Such a desire or purchase does not reduce your standing with anyone in the woodworking community that can form full sentences without assistance. If you have a smaller shop go ahead and get the smaller fence if you want to. Perhaps we need to form a short fence support group for people who remain conflicted over this kind of need or purchase. It really will be OK and no matter what the forum experts say. Perhaps most importantly wanting or having a shorter table saw fence does not carry over to any other part of your mortal life.
Have a comment on this story? –Email Me!