Ulterior Motives
Or they were lookin' back to see if I was lookin' back to see if they were lookin' back at me.
Text & photos by Tom Hintz
Posted - 2-10-2010 (the actual date may vary in some time continuums)
Not exactly economy in subtitles and it is a loose rip-off of an old John Mayall song. But it really does describe a few recent emails and forum posts about my site or myself. I get hundreds of emails every week from visitors to NewWoodworker.com and less than 1% of them qualify as weird. The other 99%+ are from interested, fully conscious people with legitimate questions or concerns. But it is that tiny 1-% that is most likely to leave me scratching my head at times.
After posting my recent Safety Survey 2 I saw a post on a forum that proves one need not actually look at something to make accusations. One of these "all-knowers" warned others on that forum that if they responded to my survey by email that I probably captured their address. And he added that capturing emails might be what the survey was really all about anyway. I am pretty sure he never bothered to actually look at the survey because there was no place to enter an email address. (Details, I know) The survey also did not ask for an email address and nobody rushed over to anyone's house while they were taking the survey to divine your email address using short-range telepathy. I'm always a bit amazed about folks that are so willing to disregard reality whenever it conflicts with their theory!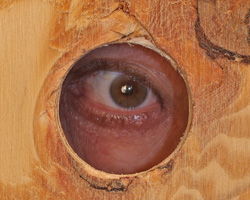 Then there was the email threatening legal action over photos in articles on NewWoodworker.com that were actually web cams that recorded whatever was going on in front of the computer that was viewing them. I have to admit that such technology might have fun possibilities but I am pretty sure that it does not exist. If you know where I can get the necessary hardware/software to pull off this bit of clandestine spying let me know. Now I do want to see what is going on in front of this guy's computer.
I also have gotten a few emails (it is a little disturbing that there were more than one) from people that demanded that I remove their email address from one of several tool manufacturer websites. I was puzzled about how I would/could be in charge of that until a couple of these Internet wizards explained it. Since they used a link from my site to get to the manufacturers site where they voluntarily entered their email address, I was responsible. I started to ask why they would enter their email address if they didn't want the manufacturer (or by association me, somehow) to have it but was a little afraid of that answer.
I am happy to report that all of this morning's email was from the 99%+ folks with a firm grip on reality. Lots of good questions and article ideas. I get a little chuckle from some of the questions because they cause me to remember when (or how) I discovered the answer to their question. It is days like this that make those thankfully infrequent 1-% emails sort of fun to read. A little concerning sometimes but usually fun none-the-less.
Have a real comment on this article? - Click Here
Folks from the 1-% segment send your theories - Here
Back to the Articles Directory