Surface Planer - Delta, 12-Inch
Text & photos by Tom Hintz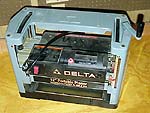 This, like the jointer, is becoming a must-have piece of equipment for those of us relegated to using something other than top-shelf lumber from the specialty outlets. Even with the best lumber, taking a piece of stock down in size or trueing up the surface by running it through a planer goes a long way towards increasing accuracy in the building process.
I have used my planer for lots of different projects, always with good results. You would be surprised what you can carve out of a lowly old 2X4 or 2X6 after running them across a jointer and through a surface planer. I have had people ask what kind of wood something is made of. They are usually shocked it is nothing more than machined common stock.
Following the purchase of my band saw, I now specialize in drawers with 3 ¼-inch tall by ½-inch thick sides. I cut the appropriate length out of a 2X4, re-saw it to 5/8-inch or so on the band saw, then run it through the planer. Presto! Nice, true drawer stock.
I also use my planer to qualify stock that I am gluing into panels. Measure all the individual boards with a calipers to find the smallest dimension, set the planer to 1/32-inch under that and run all of the stock through. When done, you have a set of boards with identical height dimensions that will make assembling an even panel much easier.
The one problem I (and most others with planers in this price range) have is something called "sniping." This is a small depression at the beginning of a cut, and occasionally at the end also. It is only a few thousandths deep and about 2 inches long, but it is noticeable. I have talked with others and have not found a repeatable solution for this. Making very light cuts to finish a piece helps, but that is about it. The good thing is that this is confined to the ends of the piece so if you can make it 6-inches longer than you need, your problem will end up in the waste pile.
This is another tool that makes a shop sawdust collection system look like a good idea. A planer can produce an amazing amount of debris in short order. There are special connectors to hook this machine to a collections system and I plan to get one before long.
Click Here to see our review of the new Delta thickness planer.
Do you have a comment about this page? - Email Me!